HECTOR HERRERA was born and raised in Mexico. From elementary school through high school he received a full bilingual education. At an early age he discovered his interest for narration and voice-over. Focused on theater arts he began attending acting classes both in Mexico City and Los Angeles, CA.
Dialogue Coach, Voice Over, Actor, Interpreting & Translation
– 2020 – "COYOTE" Season I – Dialect Coach – Paramount Network, Sony Pictures Television ::
– 2018 – "MAYANS MC" Season I & Pilot – Dialogue Coach on set, Script translation & language consultant for post production ::
– 2017 – "SICARIO" – Language consultant in post production for ADR Director, script translation, dialogue review/supervision, and consultant for Music Director selecting songs for soundtrack. -1996 – ACADEMY AWARDS OSCAR Ceremony – TV AZTECA. Commentator/Announcer voice in the first ever Spanish live simulcast for Mexico ::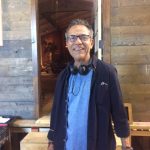 Education & Training – JAMES WILSON (University of Southern California Dean of Theater School) Acting, Scene Study :: SOUTH COAST REPERTORY (Conservatory, Costa Mesa, CA) Acting, Scene Study, Voice :: RENE PEREIRA (R. Pereira former teacher at Actor's Studio NY for Lee Strasberg) Acting, Scene Study :: UCLA Extension (MPTV Program) Acting for TV & Film :: SERGIO BUSTAMANTE (Foro Eon, Mexico City) Acting, Voice ::
– Certified Medical-Legal Interpreter – since 1996 :: SOUTHERN CALIFORNIA SCHOOL OF INTERPRETATION (Court Interpreter Program) :: UCLA Extension (Legal Interpretation and Translation).
– Hector's voice has been used extensively throughout his career for TV and Radio commercial campaigns. Casting Directors & Producers like his work for the quality and consistency in his delivery of neutral accent Spanish which communicates naturally to the USA & Latin America advertising & media markets.
Represented by Abrams Artists Agency Los Angeles and CESD New York.
VOICE OVER GUEST INSTRUCTOR
Foundations of Spanish Voice Over ::  By Hector Herrera
http://www.carrollvocastingclasses.com/newclasses/
Class information & registration at Carroll Kimble Casting:
Tel.# 818 761 7700